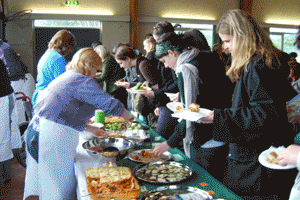 All you need to enjoy a compassionate Christmas!
FREE Admission - FREE Food - All Welcome!
Carrs Lane Church Centre, Birmingham City Centre, B4 7SX
(Directions & car parks PLEASE NOTE: no parking at venue)
Sample a wide range of delicious FREE vegan food including alternatives to meat, cheese, chocolate, cakes, milk and lots more...!! Thanks to these companies for donating their products.
A vast array of vegan food & products will be on sale on over 30 stalls, including cheese, chocolate, cosmetics, footwear, recipe books, cakes, marshmallows, soaps, clothes, raw superfood and more...!
Free recipes, nutrition factsheets & health magazines
Vegan Cafe by 3 top Birmingham caterers, offering delicious hot food & refreshments throughout the day
Info re local vegan shops, restaurants & cafes
Have a go on our tombola, which will be stacked high with great prizes!
Whether you're already seeking to change your diet/lifestyle or just curious to learn why so many people are becoming vegan, this is the event for you!!

The scrumptious vegan food & refreshments will be provided by two Birmingham based caterers - ChangeKitchen and Tall Poppy Foods.

ChangeKitchen are a social enterprise that offers award winning veggie/vegan catering for weddings, business events, festivals and more...! See their website www.changekitchen.co.uk

Tall Poppy Foods have a shop in Selly Oak. They are 100% vegan, specializing in elaborate event cakes, cupcakes, handmade chocolates, cookies, and an assortment of hot food, see www.tallpoppyfoods.co.uk




Hopper Haven Rabbit & Guinea Pig Rescue stall at our Cruelty-Free Xmas Fair in Kings Heath last year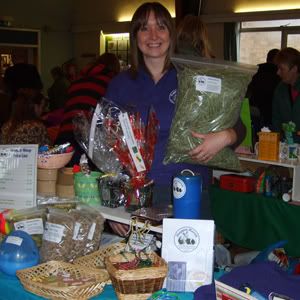 More stallholders will be displayed here shortly. If you would like a stall, please contact us

My Cupcakes - Scrumptious cupcakes and much more besides, they make all kinds of vegan cakes for every occasion including birthday, wedding, christening, anniversary, corporate promotion etc, see www.mycupcakes.org

Ethical Wares - An ethical mail order company which sells footwear, clothing, belts, bags and lots more, see www.ethicalwares.com

Lakeside Ethical Treats - A vast array of vegan chocolate, sweets & snacks incl marshmallows, cinder toffee, vegan 'Mars', 'Snickers', 'Milky Way', fudge, gift boxes, chocolate creme eggs, raw superfood, savoury snacks etc, all sold in aid of the event organisers, Midlands Vegan Campaigns, see www.ethical-treats.co.uk

Hillfields Animal Sanctuary - Cake stall in aid of the sanctuary, home to nearly 300 animals, based in Blackwell near Bromsgrove, see www.hillfields-animal-sanctuary.com

Birmingham Vegetarians & Vegans (BVV) - Local information, newsletters, advice etc from this social & support group, see www.bvv.org.uk

Tofu Tony's Recipe Books - A wide selection of vegan recipe books on sale.

Brackencraft - Natural handmade soaps, bath bombs, moisturiser, lip balm & lots more, see www.brackencraft.co.uk

The Farm Animal Sanctuary - This was Britain's first ever farm animal sanctuary, located near Evesham, and is now home to over 500 animals, see www.thefarmanimalsanctuary.co.uk

The One Earth Shop - Birmingham's only 100% vegan store will have a range of fine foods on sale. Come along to try samples of award winning dairy free cheeses, and more, see www.facebook.com/TheOneEarthShop

Sea Shepherd Conservation Society - International non-profit, marine wildlife conservation society, see www.seashepherd.org.uk

Trishul Raw Chocolate - Birmingham based producer of a healthy raw chocolate range of brownies, florentines, truffles and bars, see www.trishulrawchocolate.wordpress.com

Greens for Animal Protection - A group for Green Party members who wish to see greater protection for animals, see www.facebook.com/GreensForAnimalProtection

Animal Aid - Campaigns peacefully against all forms of animal abuse and promotes a cruelty-free lifestyle, see www.animalaid.org.uk

Equality in Action - Promoting veganism and its link to social justice and achieving equality for all, see www.facebook.com/EqualityInAction

Mimi's Miracle - 100% organic, vegan skincare - honest, caring, repairing for marvellous skin the natural way, see www.mimismiracle.co.uk

Kozy Katz Moggy Rescue - Cat rescue based near Kidderminster, see www.facebook.com/Kozykatz

Tasker's Takeaways - Free samples of authentic takeaway vegan food, with full frozen meals for your freezer on sale.

Chocolate Wendy House - Small Birmingham based company selling gorgeous cream eggs, truffles & lots more, see www.chocolatewendyhouse.co.uk

Bullies in Need - They rescue, rehabilitate and rehome bull terriers, American bulldogs and other bull breeds and educate the public as to the true nature of bull breeds and the care and training they require, see www.bulliesinneed.info

Wills Vegan Shoes - New supplier of animal and human friendly shoes with high-street styles and prices, see www.wills-vegan-shoes.com

Rainbowspan - Aura-soma colour care system. Recognise deep aspects of yourself through the colours you choose.

Good Bakes - A new small company based in Coventry producing 100% vegan cupcakes and treats, see www.facebook.com/Goodbakescov

Equinox Gift Shop - Aladdin's cave shop in Wolverhampton selling an array of new age, multi-cultural, ethnic, fairtrade gifts and clothes, see www.equinox-shop.com

Forever Living Products - A wide range of natural aloe vera drinks, nutritional supplements, skin care products and cosmetics, see www.foreverliving.com

Living Naturally - They sell soapnut shells, the only organic detergent that grows on trees! It simply doesn't get greener than this, see www.livingnaturallysoapnuts.com

Athene Skincare - Small ethical company offering vegan skincare products that are also organic and natural, and free from synthetic chemicals, toxic preservatives etc, see www.atheneskincare.co.uk

Sandwell & Birmingham Permaculture Group - A not for profit group exploring aspects of permaculture including ways of gardening and creating a sustainable, inclusive community, see www.sabpermaculturegroup.weebly.com

Chimpanzee Conservation Centre - An African conservation project caring for many chimpanzees, and they release orphan chimps back in to the wild, see www.chimpanzeeconservation.wildlifedirect.org

Living Naturally - They sell soapnut shells, the only organic detergent that grows on trees! It simply doesn't get greener than this, see www.livingnaturallysoapnuts.com

Gillie Food - UK manufacturers and importers of Oriental vegan meat substitutes, including sandwich fillers, snacks and frozen products, see www.gilliefood.com





Many thanks to the following companies for very generous donations of their products which will be available to sample on a free food table, which will be run by Moseley Vegans.

Alpro/Provamel - www.provamel.co.uk

Blue Diamond - www.almondbreeze.com

Booja Booja - www.boojabooja.com

Bute Island Foods - www.buteisland.com

Doves Farm - www.dovesfarm.co.uk

Fabulous Fudge Factory - www.fabulousfudgefactory.co.uk

Good Hemp - www.goodwebsite.co.uk

Goody Good Stuff - www.goodygoodstuff.com

Happy Kitchen - www.happykitchen.org.uk

Meridian Foods - www.meridianfoods.co.uk

Ombar - www.ombar.co.uk

Pudology - www.pudology.com

The Raw Chocolate Company - www.therawchocolatecompany.com

VBites - www.vbitesfoods.com

Vegourmet - www.vegancheese.co.uk/vegourmet

Vegusto - www.vegusto.co.uk

Venture Foods - www.venturefoods.co.uk




We have 10,000 leaflets(A6) and 500 posters(A5) which need distributing/displaying across Birmingham and beyond, ie. in health food shops, cafes, libraries, community centres, colleges, health centres etc. If you would like a batch to use in your area, please contact us with your name and address.

To download and view the leaflet(8mb), click here (PDF format)









Carrs Lane Church Centre is located in the heart of Birmingham, on Moor Street Queensway. The venue is just across the road from Moor Street Train Station. New Street Train Station is only 5 minutes walk, Birmingham Coach Station is approx 10 minutes walk (see map below).

No parking is available at the venue. There is a car park immediately across the road and various other car parks in the area.


View Larger Map