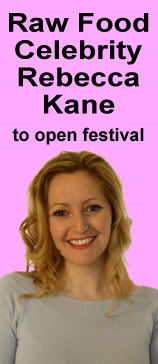 Join the party!
World Vegan Day celebrations start early again this year! Don't miss the 5th West Midlands Vegan Festival on Sat 27th October!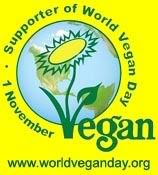 UK Vegan Awards
Vote for your favourite vegan products etc!
Be Our Friend!
Join us on Twitter & Facebook


Web Banners
Please display a banner on your website, blog, Myspace etc. Click here to see various sizes.
Leaflets/Posters
Please help promote the festival. We have 1000's of colour leaflets/posters. Click here to order a batch or download/print yourself.
Venue
The Wolves Civic, North Street, Wolverhampton, WV1 1RQ
(10 mins from bus/train st)
Click here for map etc.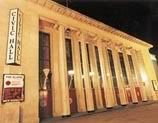 After Party
Following the West Midlands Vegan Festival, there's no need to rush home. Join us at the after party! :)

The after party will take over all 3 floors of the City Bar, in Wolverhampton, from 6pm - 1am.

The City Bar is a restaurant/bar popular with local vegans. The whole menu will be vegan, with snacks and full meals available (see below). The City Bar will stop serving food at 9pm, after which Veged Out Cafe will provide cold snacks www.vegedout.co.uk

There'll be live bands on the top floor and acoustic performers on the middle floor.

The City Bar is less than 5 minutes walk from The Civic Hall (where the fest is), in the heart of the city centre.

Admission is free for meals, and £4 to go upstairs for entertainment.

City Bar,
2/3 King Street,
Wolverhampton,
WV1 1ST
www.thecitybar.co.uk


Middle Floor
7pm - Elly Kingdon - ukulele body positive folk punk www.facebook.com/ellykingdonmusic

7:30pm - Gareth Evans - solo indie/pop musician and animal rights activist www.garethevansmusic.com

8pm - Killer's Riches - solo acoustic/anti-folk with political songs www.facebook.com/pages/Killers-Riches

8:30pm - Daran Crook - local folk guitarist and member of the celt-folk band The Barrel O'Baddies http://www.freewebs.com/barrelobaddies/


Top Floor (from 9pm)
9pm - Martin Livewire - A socio-politically and spiritually concsious mc/lyricist from Nottingham

9:30pm - Long Lost Frank - poet

9:55pm - Kworyl - rap artist

10:25pm - Balsall Heathens - Birmingham double act, upbeat, acoustic, folk/punk

11.05 - Damien Russell - acoustic band playing original songs and covers

11.45pm - Flat Stanley


Starters Homemade Vegetable Soup with Crusty Roll & Butter (GF)

Pate with Toast Triangles - vegan pate served with toast triangles and salad garnish (GF)

Fresh Fruit Skewer - strawberries, kiwi fruit, orange and pineapple, drizzled with syrup and served on a bed of mixed leaves (GF)


Main Course

Nut Roast & Cranberry Sauce served with mashed potato a medley of vegetables and gravy

Golabki - sweet cabbage leaf parcels filled with vegetables and rice oven baked and topped with a creamy tomato sauce (GF)

Speciality Bangers & Mash - Vegan sausages served on a bed of creamy mashed potato, topped with fried onions & drizzled with vegan gravy

Wild Mushroom & Cognac Pancakes - Freshly cooked pancakes filled with mushrooms & onions in a rich cognac laced sauce (GF)

(All served with boiled New Potatoes & Seasonal vegetables, Chips & salad garnish - except Bangers & Mash)


Dessert

Traditional sponge Pudding & syrup with Custard (GF)

Homemade Apple Crumble - Bramley apples topped with crumble, baked until golden (GF)

Fresh Pancakes - lemon & sugar pancakes served with Ice Cream (GF)


£11.95 three course, £9.00 two course
Many thanks to our sponsors





Fest 2011 Report
Last year's festival was an incredible success, with 1,700 people attending! Click here for a full report and photos.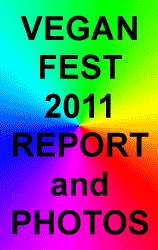 Why Vegan?
People choose the vegan lifestyle for various reasons, including: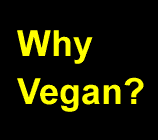 Ethical Treats!
A unique, online and mobile confectionery shop, which sells all your favourite vegan goodies! It's run by volunteers, with all profits ploughed into grassroots vegan outreach, including this festival!!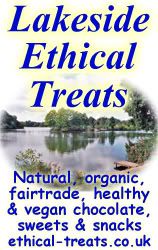 Event Organisers
The festival is organised by Midlands Vegan Campaigns, a small group of dedicated volunteers.