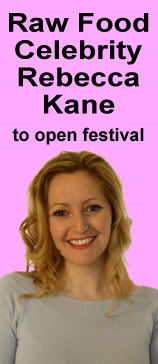 Join the party!
World Vegan Day celebrations start early again this year! Don't miss the 5th West Midlands Vegan Festival on Sat 27th October!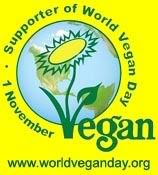 UK Vegan Awards
Vote for your favourite vegan products etc!
Be Our Friend!
Join us on Twitter & Facebook


Web Banners
Please display a banner on your website, blog, Myspace etc. Click here to see various sizes.
Leaflets/Posters
Please help promote the festival. We have 1000's of colour leaflets/posters. Click here to order a batch or download/print yourself.
Venue
The Wolves Civic, North Street, Wolverhampton, WV1 1RQ
(10 mins from bus/train st)
Click here for map etc.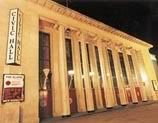 Other Attractions
There'll be various freebies, raffles, special offers, competitions and many other attractions at this year's festival, including the following. See this venue map to find your way to the various attractions.


The first 200 people through the door will get a FREE goodie bag! Many thanks to the following companies/organisations for donating samples of their products, discount vouchers & lots more for the bags. If you would like to donate something to go in the bags, please contact us
Many thanks to the following companies for very generous donations of their products which will be available to sample on a free food table, run by volunteers. Thanks also to various individuals for making cakes etc for sampling.

Amy's Kitchen - www.amyskitchen.co.uk

Fry's Vegetarian - www.frysvegetarian.co.uk

Bute Island Foods - www.buteisland.com

Food Heaven - www.lovefoodheaven.com

Kallo Foods - www.kallofoods.com

Montezuma's - www.montezumas.co.uk

Ombar - www.ombar.co.uk

Plamil - www.plamilfoods.co.uk

Provamel - www.provamel.co.uk

Redwood Foods - www.redwoodfoods.eu

Seed & Bean - www.seedandbean.co.uk

Tofutti - www.tofutti.com

Vegourmet - www.vegourmet.at supplied via Alternative Stores - Alternative Stores

Vegusto - www.vegusto.co.uk


Throughout the festival, we'll be selling tickets for our Grand Raffle which will be drawn at around 5pm, and also running a tombola. We would like to say a huge thankyou to the following companies/organisations/individuals for their generous donations of prizes. If you would like to donate a prize, please contact us


Clun Country Wines
Family Food Company


The push-up competition is in association with Vegan Bodybuilding The event has both a male & female contest. The event is being sponsored by Fitness Superstore with great prizes from many other companies as well. Come along to take part, or just to watch a fantastic display of vegan power!


Throughout the day, members of Vegan Fitness will be running a challenge to see who can row a fixed distance in the fastest time! There will be prizes for the winners! Have you got what it takes to get your name on to the Vegan Rowing Table?!! Come along to take part, or just to watch a fantastic display of vegan fitness!


Imagine a gallery of 2,000 photo-portraits, each with an answer to the question "Why did you stop eating animals?" on their T-shirt! You can have your photo taken for The "Why?" Project at the festival and see the gallery on display at the Ort and MAC (Midlands Art Centre) next year! Read more about the project on their Facebook page, www.facebook.com/events/384703191583598/
See this venue map to find your way to The "Why?" Project.


There will be various activities for children throughout the day, including fun and interactive paper craft, making paper animals etc. Also glitter tattoos, facepainting, a fun photo booth and a kids entertainer! And there will be kids cookery demos with Sadie and her dad Rob. At 12 noon, 1pm, 2pm and 3pm, watch as Sadie makes vegan smoothies and enjoy the delicious results! See this venue map to find your way to the kids activities.


The Wolverhampton based Equinox Therapy Centre will be offering an array of treatments & services throughout the day (see list below). This is a great opportunity to experience short treatments at reduced prices. See this venue map to find your way to the alternative therapy.
Reiki USUI 15 minutes £5.00
Reiki Karuna 15 minutes £5.00
Reiki Angelic 15 minutes £5.00
Acupuncture 30 minutes £15.00
Chakra Balance 15 minutes £5.00
Shamanic Healing 15 minutes £5.00
Reflexology 15 minutes £5.00
Mini manicure 15 minutes £5.00
Basic Nail Art 15 minutes £5.00
Hand & Arm massage 15 minutes £8.00
Mini Facial 20 minutes £10.00
Mediumship/Angel Readings 20 minutes £10
Counselling
Discount vouchers will be available on the day which can be redeemed against any full treatments booked within 1 month from date.


Many of the stalls at the festival will have special offers available on their products/services. See below for details:
All Love - 'On the 7th day God firebombed McDonalds' yellow XL T-shirt was £10.99 now £5.99
Arbonne - 20% off Xmas line products while stocks last
Artisan Preserves - Two preserves for £5, three for £7 and four for £9, cake and preserve takeaway selection just £12. Normal prices £2.95 a jar, £4 a cake
Athene Skincare - Trio set of Pacifica roll on perfume, body wash & body lotion RRP: £19, show offer £17 or 2 for £30
Brackencraft - Spend £10 - get 10% discount
Centre for Conscious Awareness - Special prices on all CCA literature
ChangeKitchen - 5% off catering bookings over £100
Clun Country Wines - 75cl bottles of wine RRP £7.50, show offer £6.50. 25cl bottles RRP £3.50, show offer £2.50
Ecotricity - Free Viva! subscription when signing up & free T-Shirt
Ethical Pets - Free dog chews
Ethics and Health Foundation - Half price subscription to LABL (Live a Better Life) magazine
Femmecup - £2 off Femmecup & £5 off twinpack
Freerangers - Free postage on all orders placed at the show
Goody Good Stuff - 4 bags of Goody Good Stuff for £5
Heavenly Organics Skincare - All products reduced by minimum of 30%
Hempish - 3 pairs of bamboo socks £12, price each £4.50
Kara Dairy Free - Buy any pack for £1
Katcha Bilek - 15% off all eco-handbags, laptop bags, belts and wallets
Living Naturally - Free giveaways with purchases of 2 soapnut tubes
Moo Free Chocolates - 3 for £5 on Mini Moo's
Pocketwala - Buy 5 samosas get 1 free (£1 per samosa) / buy 3 pockets get 1 free (£2 per pocket)
Mr Popple's Chocolate - RRP £3.49, special offer £3 each or 2 for £5
Network of Ley Hunters - Subscribe for £5 p.a. and receive free copy of King Arthur's Camlan
Omushana, Sunshine for Children - Ugandan craft necklaces £4 each - festival special 3 for £10
Pulsin - 4 Bars for £5 (RRP £1.59 per bar) Case of 18 bars - £15
Puro Hair - 10% off all bookings made on the day, at the event or over the phone
Razzle Dazzle Ices - 2 scoops for £2, 500ml pot for £5
Sea Shepherd - £5 discount on hoodies, shirts & hats (compared with online)
Starpoetry Astrology - 10% discount on all Aquasource products
The Buddha Beauty Company - All items are 20% or more off the online price
Tree of Life - 10% off any Tree of Life events booked at the festival
Vegan Faces - Mix and match - any 3 face paints for £10 (normally £3.95 each)
Vegan Organic Network - Half price books and DVD's
Vegan Runners UK - New members receive free copy of Sports Nutrition for Vegans.
Many thanks to our sponsors





Fest 2011 Report
Last year's festival was an incredible success, with 1,700 people attending! Click here for a full report and photos.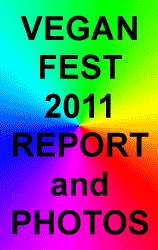 Why Vegan?
People choose the vegan lifestyle for various reasons, including: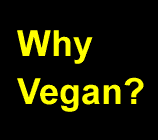 Ethical Treats!
A unique, online and mobile confectionery shop, which sells all your favourite vegan goodies! It's run by volunteers, with all profits ploughed into grassroots vegan outreach, including this festival!!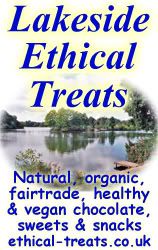 Event Organisers
The festival is organised by Midlands Vegan Campaigns, a small group of dedicated volunteers.