Join the party!
World Vegan Day celebrations start early again this year! Don't miss the 10th West Midlands Vegan Festival on Sat 28th & Sun 29th October!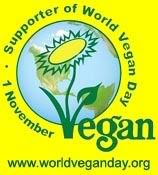 Be Our Friend!
Join us on Twitter & Facebook


2 Venues
The Wolves Civic
AND
Wolverhampton Art Gallery (2-3 mins walk from Civic)
Click here for map etc.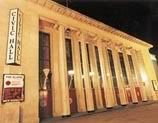 Want To Help?
Would you like to help make sure the festival is a big success? Please consider helping in one or more of the following ways.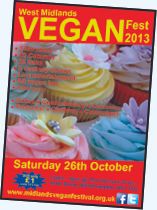 We have thousands of vibrant colour leaflets(small A6 size) and posters (A4 size). We need your help to distribute them! We need to flood the Midlands (and beyond!) with leaflets/posters, anywhere that there are people who may be interested - so basically anywhere at all! Your school, college, cafe, workplace, library, church, community group, health food shop etc etc. If you're able to distribute/display some, or leave some where they can be distributed(ie. health food shop), we can post some to you, so please contact us stating the number you require and your address.

Alternatively, you can download the full colour leaflet and poster in pdf format below. Please copy and distribute as many as you can.

download the leaflet.
We have set up pages on Facebook and Twitter. Why not become our friend so you can stay tuned to event updates and forward them to all your friends! Post a comment to pledge your support.

Help spread the word, join and share the event page on Facebook and become our friend on Twitter!
Facebook
Twitter Whether you're a business, organisation or just an individual, you can help us to ensure the event is a big success by becoming a sponsor or by donating whatever you can afford. MVC event co-ordinators are volunteers - all donations received will be ploughed into publicity etc. Please make cheques payable to 'Midlands Vegan Campaigns' and contact us for a postal address. Thankyou! We will need lots of help on the day, in many varied ways. Everything from leafletting in the street and handing out our programmes, to clearing tables and washing up! See all the volunteer tasks below:

Setting Up Before Event (from 8am)
arrange tables ready for stallholders
stallholder car parking attendants
help arriving stallholders to find their pitch & set up
display helpful signs around venue (eg "cookery demos this way" etc)
Promotion (for 3 hour shifts - 9am-12pm, 12-3pm or 3-6pm):
leafletting
holding directional placard
handing out free food samples in the street
Upon Arrival (for 3 hour shifts - 9am-12pm, 12-3pm or 3-6pm):
Welcome desk - taking £1 entrance fee off all adults
Welcome desk - handing out free event programmes
Food and Drink (for 3 hour shifts - 9am-12pm, 12-3pm or 3-6pm):
clearing and wiping clean the cafe tables
free food sample stall (providing visitors with a variety of vegan samples, keeping platters topped up and distributing food donor details/recipes)
Workshop/Talk Co-Ordination
Introducing speakers, arranging seats, helping speakers set up etc
Help set up and clear away before and after each of the cookery demos
Other Important Tasks
co-ordination of volunteers - keep track of who's doing what and where!
litterpicking inside the venue & immediately outside the venue
taking lots of photos & filming the event
encourage visitors to complete our questionnaire/feedback form
Event announcements on the main stage in the Civic Hall (eg "cookery demo starts in 5 mins" or "we have a lost child, could the parents of Rosie come to the welcome desk please" etc)
In order to make sure the event runs as smoothly as possible, we need to find volunteers for all the above tasks(and quite possibly more!). If you can spare 2 or 3 hours or the whole day, we would love to hear from you! Just let us know what you'd prefer to do and when. Please email Karen, our volunteer co-ordinator volunteers[at]veganmidlands.org.uk
Many thanks to our sponsors

Why Vegan?
People choose the vegan lifestyle for various reasons, including: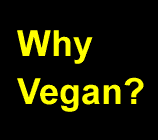 Ethical Treats!
A unique, online and mobile confectionery shop, which sells all your favourite vegan goodies! It's run by volunteers, with all profits ploughed into grassroots vegan outreach, including this festival!!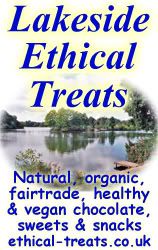 Event Organisers
The festival is organised by Midlands Vegan Campaigns, a small group of dedicated volunteers.