Join the party!
World Vegan Day celebrations start early again this year! Don't miss the 10th West Midlands Vegan Festival on Sat 28th & Sun 29th October!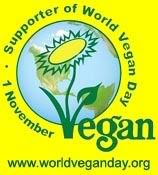 Be Our Friend!
Join us on Twitter & Facebook


2 Venues
The Wolves Civic
AND
Wolverhampton Art Gallery (2-3 mins walk from Civic)
Click here for map etc.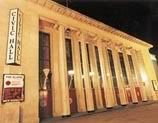 Sponsors
We are extremely grateful to the following organisations & companies for sponsoring the festival. Without their support, this event would not be taking place. If your vegan/ethical company or organisation would like to sponsor the festival, please contact us for more details.

Moo Free Chocolates - They produce...you guessed it, delicious dairy-free choccy! The multi award winning dairy-free chocolate producer are supporting us for the 7th year in a row!! Moo Free brings you all the taste of great tasting milk chocolate but without using any milk. Everything from chocolate bars and Easter Eggs, to chocolate drops, advent calendars and more! All the chocolate is manufactured and packed in their UK factory, which has only ever been used to make dairy free chocolates. All Moo Free products are made using a combination of natural, organic and fair trade ingredients. They're constantly developing new and exciting products. You'll be able to buy some at the festival but if you can't wait that long, they're available online! www.moofreechocolates.com

Excellart - If you're looking for an ethical marketing and design company then look no further! Excellart have strong personal and business ethics, and will help to promote your business in an ethical manner. They offer a wide range of marketing, design, PR services, specialising in: on-line design - including website design; public relations - including 'results only' PR; printed design - including leaflets, posters, corporate design & branding, brochure & catalogue design etc. Excellart are kindly helping to promote this festival. www.excellart.co.uk

Animal Aid - Animal Aid is the UK's largest animal rights group and one of the longest established in the world, having been founded in 1977. They campaign peacefully against all forms of animal abuse and promote a cruelty-free lifestyle. They investigate and expose animal cruelty, and their undercover investigations and other evidence are often used by the media, bringing these issues to public attention. Animal Aid will have a stall at the festival. www.animalaid.org.uk
Many thanks to our sponsors

Why Vegan?
People choose the vegan lifestyle for various reasons, including: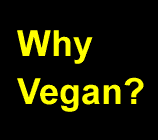 Ethical Treats!
A unique, online and mobile confectionery shop, which sells all your favourite vegan goodies! It's run by volunteers, with all profits ploughed into grassroots vegan outreach, including this festival!!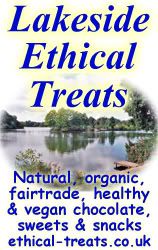 Event Organisers
The festival is organised by Midlands Vegan Campaigns, a small group of dedicated volunteers.