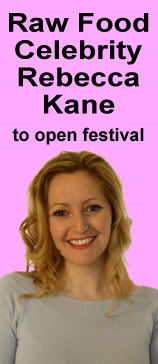 Join the party!
World Vegan Day celebrations start early again this year! Don't miss the 5th West Midlands Vegan Festival on Sat 27th October!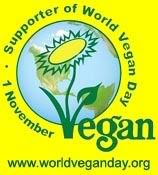 UK Vegan Awards
Vote for your favourite vegan products etc!
Be Our Friend!
Join us on Twitter & Facebook


Web Banners
Please display a banner on your website, blog, Myspace etc. Click here to see various sizes.
Leaflets/Posters
Please help promote the festival. We have 1000's of colour leaflets/posters. Click here to order a batch or download/print yourself.
Venue
The Wolves Civic, North Street, Wolverhampton, WV1 1RQ
(10 mins from bus/train st)
Click here for map etc.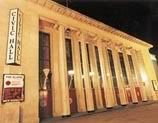 The UK Vegan Awards 2012 are an opportunity to recognise and celebrate the products, places, companies, organisations and campaign groups who make a real difference to veganism, animals and the planet.

Award nominations in 15 categories are listed below. The winners will be announced and certificates presented at the West Midlands Vegan Festival on Saturday 27th October. Click here to see how the awards fit in to the exciting line-up of entertainment throughout the day!

Please click here to vote now.

You may vote in all categories, or just 1 or 2, the choice is yours. You will be blocked from voting more than once. Voting will end at 12 midnight on Wednesday 24th October.

Categories and Nominations


1. Best vegan chocolate?

Booja Booja
Chocolate Wendy House
Conscious Chocolate
Go Max Go Bars
Hypo-Hyfryd
Montezuma
Moo Free Chocolate
Mr Popple's Chocolate
Mulu Chocolate
Organica
Organic Seed & Bean Company
Plamil

2. Best vegan footwear?

Alternative Stores
Beyond Skin
Bourgeois Boheme
Ethical Wares
Freerangers
Veganline
Vegetarian Shoes
eco-vegan-shoes.com

3. Best vegan catering service?

Anarchist Teapot
ChangeKitchen
Fairfoods
Goodness Gracious Healthy Foods
Green Garden Cafe
No Bones Jones
Rainforest Creations
Shambhu's
Something Fishy
Titbits Catering
Veggies
Yellowbellys

4. Best online vegan recipe guide?

www.veganrecipes.org.uk
www.veganyumyum.com
www.parsleysoup.co.uk
www.simpleveganrecipes.co.uk
www.veganfamily.co.uk/kitchen.html
www.veganrecipeguide.com
www.vegansociety.com/lifestyle/food/recipes/
www.veganvillage.co.uk/recipes.htm
www.vegetarianrecipeclub.org.uk
www.happyherbivore.com
www.vegweb.com
www.chooseveg.com/vegan-recipes.asp
www.mouthwateringvegan.com

5. Best vegan cheese?

Provamel
Redwoods
Sheese
Tofutti
Vegusto

6. Best animal rights campaign group?

Animal Aid
Animal Equality
Animal Protection Agency
Captive Animals' Protection Society
Coalition to Abolish the Fur Trade
Hunt Saboteurs Association
PETA
Save the Harlan Beagles
Sea Shepherd
SHAC
SPEAK
The Black Fish
Uncaged
Viva!

7. Best supermarket for vegan products?

Aldi
Asda
Co-Op
Farmfoods
Iceland
Lidl
Marks & Spencer
Morrisons
Sainsbury's
Tesco
Waitrose

8. Best vegan cakes?

1066 Cake Stand
Baby Cakes Direct
Blue Lotus Cakes
Cottage Cupcake Company
Cupcake Britain
Cupcake Jo's
Hannah Banana Bakery
Heavenly Vegan Cupcakes
Ms Cupcake
p.s...it's vegan!
Ronlikescakes
The Heavenly Cake Company
To Happy Vegans

9. Best vegan meat?

Amy's Kitchen
Vegandeli
Dragonfly
Fry's
Goodlife
Granose
Just Wholefoods
Linda McCartney
Soyfoods
Redwood
Veggies
Vegusto
Wheaty

10. Most animal/vegan friendly environmental organisation?

Earth First!
Friends of the Earth
Greenpeace
Green Party
Permaculture Association
Soil Association
Transition Towns
United Nations Environment Programme
Women's Environmental Network

11. Best vegan bodycare products?

Athene Skincare
Beauty without Cruelty
Brackencraft
Faith in Nature
Green People
Honesty Cosmetics
Jason
Lucy Rose
Lush
Raw Gaia
Vegan Health & Beauty
Yaoh

12. Best vegan cafe/restaurant?

Cafe Kino, Bristol
City Bar, Wolverhampton
Demuths, Bath
Eighth Day Cafe, Manchester
inSpiral, Camden
Jyoti's, Birmingham
Karmic Cafe, Worcester
Mono, Glasgow
Pogo Cafe, London
Rainbow Cafe, Cambridge
St Anne's Well, Malvern
VBites, Brighton
Warehouse Cafe, Birmingham

13. Best national vegan awareness raising organisation?

Animal Aid
PETA
Vegan Society
Viva!

14. Best vegan milk?

Alpro
Good Hemp
Kallo
Kara
Oatly
Plamil
Rice Dream
So Good

15. Best vegan product/company/service not nominated elsewhere?

BarrowBoys Crisps
Bessant & Drury
Ecotricity
Ethical Pets
Excellart
Femmecup
Goody Good Stuff
Peppersmith
Razzle Dazzle Ices
Sweet Vegan
Vegfam
VeggieVision

Please click here to vote now.


Many thanks to our sponsors





Fest 2011 Report
Last year's festival was an incredible success, with 1,700 people attending! Click here for a full report and photos.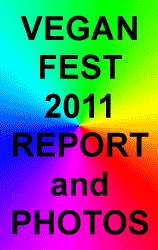 Why Vegan?
People choose the vegan lifestyle for various reasons, including: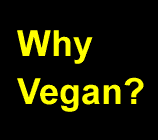 Ethical Treats!
A unique, online and mobile confectionery shop, which sells all your favourite vegan goodies! It's run by volunteers, with all profits ploughed into grassroots vegan outreach, including this festival!!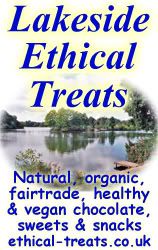 Event Organisers
The festival is organised by Midlands Vegan Campaigns, a small group of dedicated volunteers.