Pledge to Attend!
Tell us your coming via PledgeBank & Facebook

Be Our Friend!
Join us on Myspace & Facebook

Web Banners
Display a banner on your website, blog, Myspace etc. Click here to see various sizes/shapes.

Leaflets/Posters
Help promote Veggie Pride UK. We have 1000`s of colour leaflets. Click here to order a batch or download/print yourself.
Wish List!
We`re hoping to find all the things on our Wish List - can you help?
Need a Lift?!
If you have to go by car, go with Freewheelers

Event Organisers
Veggie Pride is organised by Midlands Vegan Campaigns, a small group of dedicated volunteers.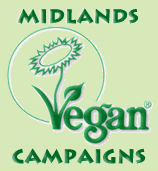 Other Festivals
For details of our West Midlands Vegan Festival & other annual, local/national vegan fairs & festivals Click here
Veggie Pride UK will include:


info & product stalls - 10am - 6pm
delicious vegan food
live music & entertainers - 10am - 6pm
inspirational speakers
clowns, jugglers, belly dancers, poets etc
facepainting
samba band
vibrant & colourful carnival procession - 1pm
yoga demonstration
kids activities
best costume/banner contest - 2.30pm
and lots, lots more...!!

For the full programme click here

On Saturday 16 May 2009, Victoria Square in Birmingham City Centre will be transformed by Veggie Pride UK - a fantastic celebration of vegetarian and vegan diets/lifestyles. It`s an opportunity for everyone following compassionate, eco-friendly, healthy lifestyles to come together for a fun, carnival style event whilst also raising awareneness of the many benefits - for human health, animals, environment etc.

For several years, Veggie Pride events have been held in Paris, and last year, also in Rome and New York. The main attraction of these events is a procession through the streets and also stalls, food, entertainment etc. No such event has ever been staged in the UK...until now!!

Veggie Pride UK will take place in the heart of Birmingham, at the end of New Street in Victoria Square. Being in a busy central location, we expect the festival to attract hundreds of local people throughout the day, not to mention vegetarians and vegans who will flock to this unique event from across the UK!!

Birmingham has played a very important role in the progress of vegetarianism for well over 100 years (see our page Why Birmingham? ) and continues to do so today. By staging Veggie Pride UK in Birmingham, we seek to build on the vegetarian foundations layed down here generations ago. We hope it will become an annual event, celebrated by vegetarians & vegans from across the country and we have no doubt it will grow in size and popularity year after year!

Read about previous Veggie Pride events in Paris and New York

Veggie Pride UK is being organised by a small group of volunteers, known as Midlands Vegan Campaigns. We have previously organised a range of events, including Free Vegan Food Fairs and the West Midlands Vegan Festival.

If you are interested in booking a stall, sponsoring the event, offering some form of entertainment, volunteering etc, Midlands Vegan Campaigns would be delighted to hear from you so please Contact Us

If you want to learn more about veganism, why people are increasingly adopting this lifestyle and more about the work of Midlands Vegan Campaigns, check out our main website www.veganmidlands.org.uk
Photos from Veggie Pride 2008 in New York
Many thanks to our sponsors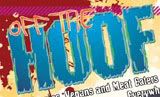 Click here for our full list of sponsors.


Why Veggie?
People choose the veggie & vegan lifestyles for various reasons, including: