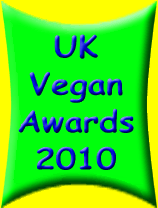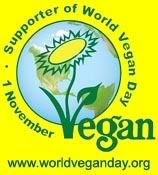 Be Our Friend!
Join us on Myspace, Twitter, Facebook & YouTube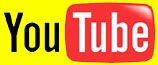 Web Banners
Display a banner on your website, blog, Myspace etc. Click here to see various sizes/shapes.

Leaflets/Posters
Help promote the festival. We have 1000`s of colour leaflets/posters. Click here to order a batch or download/print yourself.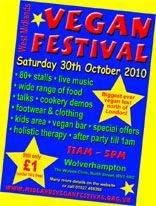 Wish List!
We`re hoping to find all the things on our Wish List - can you help?

Venue
Wulfrun Hall, The Wolves Civic, North Street, Wolverhampton, WV1 1RQ
(10 mins from bus/train st)
Click here for map etc.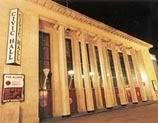 Transport
If you have to go by car, go with Freewheelers

2 Sponsored Half Marathons
In Aid of the the
West Midlands Vegan Festival 2010

Midlands Vegan Campaigns(MVC) founder Kevin White, will take part in 2 forthcoming half marathons in Wolverhampton (Sun 5 Sept) and Birmingham (Sun 24 Oct). The money raised will help to fund the West Midlands Vegan Festival. Please sponsor Kevin and help him to raise as much money as possible.

You can sponsor Kevin via Paypal or download a sponsor form. Click here to jump down the page and find out how, or keep reading for more about Kevin's race history and details of how the money raised will be used.



"In 2008, I ran the Birmingham Half Marathon in 2 hours 16 minutes. It was miles further than I had ever ran previously & was actually my first race since school over 20 years ago, so I was very pleased to finish!

In 2009, I finished the Wolverhampton Half Marathon in 2 hours 2 minutes and the Birmingham Half Marathon in 1 hour 48 minutes.

This year, I'm training hard and hope to knock several minutes off my times last year. I'll be running in my Vegan Runners UK vest and hope to dispel the myths about vegans being unfit!! As in previous races, I will pin a festival poster to my vest so that everyone knows what I'm raising money for!



In 2008 and 2009, MVC's festivals each attracted over 1,000 people and I was delighted that many hundreds of these were non-vegans. They enjoyed the mountains of delicious food, were spoilt for choice by the stalls and packed into the talks and cookery demos, eager to learn the many benefits of vegan lifestyles. This was awareness raising on a massive scale, which is what MVC is all about. Our small team has the experience and commitment to organise another vegan festival which will succeed in changing many people's lives for the better, but we need your support to help us reach as many non-vegans as possible. We need to raise lots of money to help pay for printing, press adverts etc.

Please sponsor me whatever you can afford. Thankyou".


Securely online via Paypal. You don't need a Paypal account. You can pay via credit/debit card. Simply click on the Paypal sponsor button.



Or Download a Sponsor Form and return it with a cheque/postal order to the address on the form.


Or finally, you can sponsor Kevin at numerous events leading up to the races. If you know him, you'll know where to find him, so be prepared!
Not only is this a great way to raise funds, it will also help to alert potential festival-goers to the event! Please do your best to gather as many sponsors as possible. You could ask your friends, family, veggie/vegan/environmental group members etc. Whether 20p or £20, every penny will help and will be very gratefully received. Wherever possible, if sponsors can pay in advance, it'll save us spending time/money chasing them up later! Thankyou.



Many thanks to Alternative Stores for kindly donating a pair of trainers for Kevin to run in.


For other ways you can help ensure the success of the festival, please Click here
Many thanks to our sponsors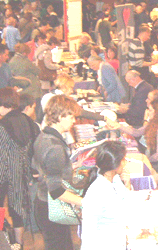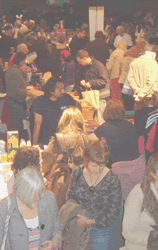 Why Vegan?
People choose the vegan lifestyle for various reasons, including:
Event Organisers
The festival is organised by Midlands Vegan Campaigns, a small group of dedicated volunteers.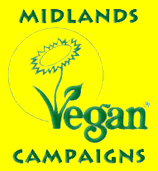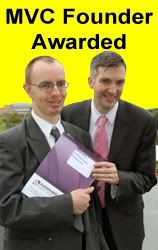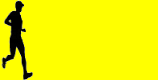 Other Festivals
For details of the East Midlands Vegan Festival & other annual, local/national vegan fairs & festivals Click here
Local Veg Group
The local campaigning & social group is Wolverhampton Vegans & Veggies


Many more West Midlands groups can be found on our Links page.