MVC Founder named 'Green Leader'!
Kevin White has been awarded for promoting veganism!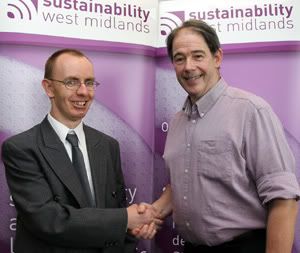 Vegan and environmental campaigner Kevin White has been named one of the 'West Midlands Top 50 Green Leaders' for spearheading several eco-friendly groups, awareness raising events & projects.

The region's first ever Top 50 Green Leaders were revealed last month by Sustainability West Midlands in a bid to drive forward the move to a low carbon economy and society by 2020.

Kevin was presented with a certificate by the international environmental campaigner and writer Jonathon Porritt CBE at a special event at Millennium Point, Birmingham. [see photo]

Kevin was recognised for tirelessly promoting eco-friendly, sustainable living with Redditch Vegetarians & Vegans, for setting up the popular Redditch Freegle group and for staging annual events such as the Redditch Green Fair and the West Midlands Vegan Festival.

Various newspapers printed articles about this, including the following two:

Redditch eco campaigner named Green Leader (Redditch Standard)

Eco pioneer from Redditch gets accolade (Redditch Advertiser)
Kindly hosted by www.kaleton.com/, technology for grass roots campaigners.