Vegan Environmental Awards 2009
Help MVC Win an Award - Vote for Us Now!!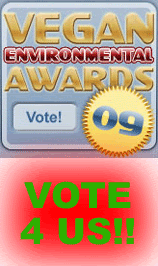 MVC has been nominated Best Vegan Small Campaign Group in the Vegan Environmental Awards 2009!! A total of 9 groups have been nominated for this award, including our friends at Vegfam, Sea Shepherd Conservation Society and Animals Count.

There are a further 8 award categories, each with 9 nominations. Awards up for grabs include Best Vegan Chocolate, Best Vegan Bodycare and Best Vegan Friendly Shop. The awards are hosted by Yaoh and will be presented at the Bristol Vegan Fayre on Sunday 31st May.

If you like MVC and enjoy our fairs, festivals and other events, please vote for us! You can vote online once a month between January and May. Voting is easy and only takes a few seconds, see http://bristol.veganfayre.co.uk/awards-vote/
Kindly hosted by www.kaleton.com/, technology for grass roots campaigners.