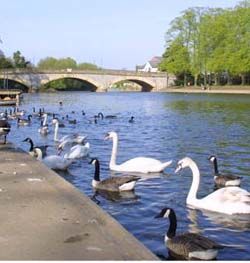 Vale of Evesham Vegan Fair
Saturday 23rd March 2013
10.30am - 4.30pm
Promoting Healthy, Compassionate, Eco-Friendly
Diets and Lifestyles
Evesham Town Hall, Market Place, Evesham, WR11 4RW
(Directions & car parks PLEASE NOTE: no parking at the hall)
FREE Admission - FREE Food - All Welcome!
The cake stall was extremely popular at our vegan food fair in Lichfield (April 2008)
Click here for an event report and more photos.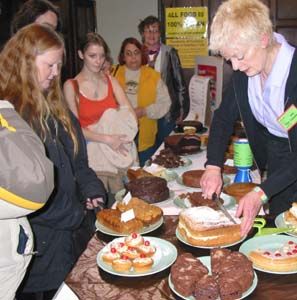 Sample a wide range of delicious FREE vegan food including alternatives to meat, cheese, chocolate, cakes, milk, curry and lots more...!! Thanks to these companies for donating their products.
A vast array of vegan food & products will be on sale on 20 stalls, including Easter Eggs, ice cream, cosmetics, recipe books, cakes, marshmallows, soaps, clothes, raw superfood, pet food and more...!
Free recipes, nutrition factsheets & health magazines
Simple Cookery Demos
Vegan Cafe offering hot food & refreshments
Info re Local Vegan Shops, Restaurants & Cafes
Whether you're already seeking to change your diet/lifestyle or just curious to learn why so many people are becoming vegan, this is the event for you!!



Many thanks to our sponsors Animal Aid and Lakeside Ethical Treats


We have 10,000 leaflets(A6) and 250 posters(A4) which need distributing/displaying across the Vale of Evesham and also in key locations in surrounding towns (Stratford, Worcester, Cheltenham etc), ie. in health food shops, cafes, libraries, community centres, colleges, health centres etc. If you would like a batch to use in your area, please contact us with your name and address.

To download and view the leaflet(8mb), click here (PDF format)


Please help to promote the event on Facebook






Vegan Cafe
The scrumptious vegan food & refreshments will be provided by ChangeKitchen, the Birmingham based social enterprise that offers award winning veggie/vegan catering for weddings, business events, festivals and more...! See their website www.changekitchen.co.uk




A 40 strong audience enjoy the cookery demo at our Kings Heath Food Fair in November 2007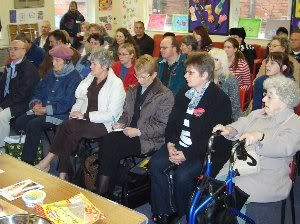 Times are subject to change:

11.30am - Be Vegan/ Live Vegan
With Dean Bracher, a Vegan Society volunteer who has given over 200 school talks across the UK!
A talk to inspire you about veganism and why more people choose to be vegan every day. We will discuss how to be vegan and share knowledge and learn together that the positives will always outweigh the percieved negatives!

12.15pm - Raw Chocolate Brownie Demo
With Rebecca Kane, raw vegan food chef, author, radio presenter and founder of Shine on Raw
Rebecca will demonstrate her famous raw chocolate brownies!

1pm - Farm Animals: The Worst Treated Animals in the World!
With Janet Taylor, founder of Britain's first Farm Animal Sanctuary, a few miles from Evesham.
Janet will introduce why she thinks farm animals are the worst treated animals in the world and then take questions from the audience.

1.45pm - Everyday Vegans
With Dean Bracher, a Vegan Society volunteer.
Why we are vegan and how do we live in this society when it comes to food choices and shopping etc! An insightful talk about being vegan and that given the right knowledge we all can be, or at least see the reason behind it.

2.30pm - Raw Chocolate Brownie Demo
Raw vegan chef Rebecca Kane will repeat her demo from earlier.

3.15pm - Climate Change and Vegan Diets
With Karen Varga, member of staff from The Vegan Society
Karen will facilitate an 'open space' discussion around climate change and vegan diets.





Hopper Haven Rabbit & Guinea Pig Rescue stall at our Cruelty-Free Xmas Fair in Kings Heath last year
The following companies, campaign groups, sanctuaries and organisations will have stalls at the event. If you would like a stall, please contact us

Worcestershire Vegans & Veggies - A FREE vegan food sample stall run by this vegan campaigning and social group based in Worcester, see www.worcsveg.org.uk

Brackencraft - Natural handmade soaps, bath bombs, moisturiser, lip balm & lots more, see www.brackencraft.co.uk

Lakeside Ethical Treats - A vast array of animal-free chocolate, sweets & snacks incl Easter Eggs, choc bunnies, gift boxes, marshmallows, cinder toffee, vegan 'Mars', 'Snickers', 'Milky Way', raw superfood, savoury snacks etc, all sold in aid of the event organisers, Midlands Vegan Campaigns, see www.ethical-treats.co.uk

Tasker's Takeaways - Free samples of authentic takeaway vegan food, with full frozen meals for your freezer on sale, see www.redditch.veggroup.org/locations/1453.html

Ethical Pets - Ethical pet store selling everything your pet needs from bowls and food to leads & toys, see www.ethical-pets.co.uk

The One Earth Shop - Situated in Digbeth, Birmingham, this is the longest running purely vegan health food shop in the country and a range of their goodies will be on sale, see www.facebook.com/TheOneEarthShop

Riverflow Clothing - A small, family, business selling fairly traded and ethically sourced clothes and accessories that are mostly hand made and unique, see www.riverflowclothing.com

Word of Mouth Cafe - A great venue for vegans in Evesham Town Centre. Lots of vegan options, and they make their own vegan bread, soup, cakes and tarts, see www.wordofmouthcafe.co.uk

Three Counties Sabs - Local group who take lawful direct action to protect wildlife from those who wish to hunt and kill them, see www.facebook.com/threecounties.sabs

Tofu Tony's Recipe Books - A wide selection of vegan recipe books on sale.

Skylark Organics - A Soil Association Certified supplier of organically produced fruit & vegetables. Their weekly box scheme delivers a wide selection of fresh produce across Worcestershire, Herefordshire, Chpping Norton & surrounding areas, and their expanding across the West Midlands, see www.skylarkorganics.co.uk

Trishul Raw Chocolate - Lots of locally produced, delicious & healthy (yes healthy!) raw chocolate goodies including chocolate brownies, energy bombs, florentines, truffles, millionaires shortbread and more, see www.facebook.com/TrishulRawChocolate

The Farm Animal Sanctuary - This was Britain's first ever farm animal sanctuary, located near Evesham, and is now home to over 500 animals, see www.thefarmanimalsanctuary.co.uk

The Vegan Society - They promote ways of living free from animal products for the benefit of people, animals and the environment, see www.vegansociety.com

Vegan Cakery - Small ethical company selling a fantastic range of cruelty-free cupcakes, luxury gateaus, battenberg, celebration cakes, tiered cakes and more, see www.vegancakery.com

Animal Aid - The UK's largest animal rights group and one of the longest established in the world, having been founded in 1977, see www.animalaid.org.uk

Pulsin - Natural, healthy and nutritious snacks made using premium wholefood ingredients in their Gloucestershire factory, see www.pulsin.co.uk

Razzle Dazzle Ices - A small, ethical, family business that produces a fantastic range of delicious dairy-free ice cream. The flavours include shokalate, mango sorbet and hintamint, see www.razzledazzleices.co.uk

Neal's Yard Remedies - Organic, natural and vegan health and beauty products made in the UK by these pioneers in organic beauty and wellbeing, see www.organicamanda.co.uk





Many thanks to the following companies for very generous donations of their products which will be available to sample on a free food table, which will be run by Worcestershire Vegans & Veggies.

Amy's Kitchen - www.amyskitchen.co.uk

Bute Island Foods - www.buteisland.com

Fry's Vegetarian - www.frysvegetarian.co.uk

Kara Dairy Free - www.karadairyfree.com

Redwood Foods - www.shop.redwoodfoods.eu

Vegusto - www.vegusto.co.uk

Venture Foods - www.venturefoods.com





The town hall is located in the centre of Evesham, in Market Place, just off the A4184 High Street/Vine Street. The venue is 2 minutes walk from the bus station and 10 minutes from the train station (see map below).

No parking is available at the town hall. There are various pay and display car parks less than 5 minutes walk away, as marked on the map. Car park charges are very reasonable: 50p for half hour, £1 for 1 hour, £2 for 2 hours etc, and £6 for up to 10 hours in the long stay car parks.