Pledge to Attend!
Tell us your coming via PledgeBank & Facebook


Be Our Friend!
Join us on Myspace & Facebook

Web Banners
Display a banner on your website, blog, Myspace etc. Click here to see various sizes/shapes.

Leaflets/Posters
Help promote Veggie Pride UK. We have 1000`s of colour leaflets. Click here to order a batch or download/print yourself.
Wish List!
We`re hoping to find all the things on our Wish List - can you help?

Need a Lift?!
If you have to go by car, go with Freewheelers

Event Organisers
Veggie Pride is organised by Midlands Vegan Campaigns, a small group of dedicated volunteers.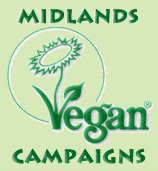 Other Festivals
For details of our West Midlands Vegan Festival & other annual, local/national vegan fairs & festivals Click here
Entertainment

For the full programme click here

The festival will include live stage entertainment, with bands, singers and guest speakers between 10am - 6pm. A list of all the performers(so far) and websites can be seen below.

As well as on the main stage, there will be entertainers and talented people all round the square, creating a vibrant, carnival atmosphere. There will be clowns, jugglers, belly dancers, poets, a yoga demonstration, musicians, story tellers, a samba band and lots more...!!

If you can offer any form of entertainment, whether for the main stage or around the square, please contact us as soon as possible.

Bands and Singers

Yasus Afari - Reggae Artiste. Yasus Afari represents the immortal vision of the ancient future, stimulating the revolutionary will to conquer poverty, ignorance, and injustice, by releasing positive vibrations in harmony with words, sounds and power. Deeply rooted in his Rastafarian beliefs, Yasus Afari is a national treasure in Jamaica. www.yasusafari.biz

Deadmoney Duo - Folk, acoustic and celtic music by a father and son team, Peter and Cohen from Worcester. www.myspace.com/deadmoneyduo

Chris Butler - Protest folk singer. For the past 20 years, Chris from Derbyshire has entertained at gigs across the Midlands and beyond. He`s a very politically motivated songwriter. Where folk meets punk and protest meets resistance. He`s shared a stage with Chumbawamba, Eastfield, Robb Johnson and many more... Read more about Chris on his website www.butler1389.fsnet.co.uk

Martin the Livewire - A socio-politically and spiritually concsious mc/lyricist from Nottingham. Martin aims is to bring awareness to the ills of our society and the world inflicted on us by corrupt politicians, media and large corporations etc. So aswell as being a classic hip hop lyricist, most of his tracks have a socio-political slant to them. www.myspace.com/martinthelivewire

10 O`Clock Horses - Acoustic, folk rock. The 10 O'Clock Horses originally formed in 1996. A group of local friends came together and, after a drunken discussion, decided to blend their musical knowledge together and form a band. Taking the name from a local saying 'Get to bed before the 10'o'clock horses get ya' www.myspace.com/10oclockhorses

Mama Matrix - Balkan gypsy music. Songs by this 5 piece Birmingham band feature clever and witty lyrics, accompanied by dextrously gorgeous and hypnotising violin and a somewhat twisted jazzy drumbeat, a dreamy and unexpected electric guitar and a very heavy & bassy tuba. www.mamamatrix.co.uk

Circadia - Electroacoustic, alternative, post punk. Circadia are a Birmingham based band, originally formed in 2001, with a view to create something spectacular by moulding together electronics and live instruments. www.myspace.com/circadirka

Macka B - Reggae Artiste. Known as the teacher, Macka B has gathered a strong world wide following spanning many continents. Macka B is respected for always being true to his views and always speaking from the heart. A true man of the people. www.mackab.com




Speakers

Juliet Gellatley - founder and director of Viva! and she also founded the Vegetarian & Vegan Foundation
Viva! is Europe`s largest vegetarian campaigning organisation and the VVF is a registered dietary health charity.

Nitin Mehta - leader of the Young Indian Vegetarians
The YIV pledge to bring about a 21st century in which the human race will finally make peace with the animal kingdom.

Kate Fowler-Reeves - Head of Campaigns at Animal Aid
Animal Aid campaigns peacefully against all animal abuse, and promotes a cruelty-free lifestyle.

Alex Claridge - Trustee & Assistant Local Contacts Coordinator for the Vegan Society
Promote ways of living free from animal products for the benefit of people, animals & the environment.

Lorraine Parker - Animals Count
A political party to help create a better world for people and animals.

Sue Baumgardt - Animal rights spokesperson for the Green Party
A growing political movement promoting social & environmental justice through campaigns, direct action and the electoral process.

Kevin White - Founder of Midlands Vegan Campaigns
Kevin will speak about the group, it`s successes so far & the future...!!




Other Performers

Bloco Louco Samba Band - The wonderful Bloco Louco will entertain you in Victoria Square with a static performance. They`ll have you dancing to the infectious sound of Brazilian beats, preparing you for the carnival procession! Bloco Louco are a Birmingham based community band and we`re thrilled that they`ll be a big part of Veggie Pride UK! www.blocolouco.com

Belly Dancers - Belly Dance is the oldest and most fascinating dance - fantastic for fitness, fun and a proud background that goes back to pre Biblical times - Belly Dance - the Mother of All Dances! Come and watch the Birmingham Belly Dancers, and join in if you want! www.birminghambellydancing.co.uk

Yoga in Daily Life - There`ll be a yoga demonstration in Victoria Square, and you can join in! In our hectic modern world many people are taking 'time out' to practice yoga - a system of philosophy that originated in India 5,000 years ago. Everyone can practice yoga, regardless of age, sex or ability. Yoga offers us a holistic approach to body, mind and spirit, which can provide us with the 'tools' to cope with the challenges of daily life. Yoga can also complement medical science and therapy for specific conditions. www.yogaindailylife.org.uk

Kristoff the Clown - Kristoff will perform his magnificent magic show in Victoria Square. Kristoff`s 50 minute show will provide lots of surprises, fun and laughter for all ages. He`s a West Midlands based clown who has entertained children at events across the region for many years.

Sikh Warriors - An awesome display of swordfighting and martial arts skills. It is unlikely you will witness such a stunning execution of sword skills anywhere in the world on display in public. Prepare to be terrified! www.gatkaonline.co.uk
Photos from Veggie Pride 2008 in New York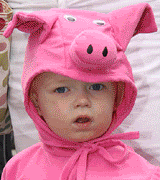 Many thanks to our sponsors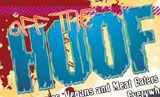 Click here for our full list of sponsors.


Why Veggie?
People choose the veggie & vegan lifestyles for various reasons, including: