Pledge to Attend!
Tell us your coming via PledgeBank & Facebook


Be Our Friend!
Join us on Myspace & Facebook

Web Banners
Display a banner on your website, blog, Myspace etc. Click here to see various sizes/shapes.

Leaflets/Posters
Help promote Veggie Pride UK. We have 1000`s of colour leaflets. Click here to order a batch or download/print yourself.
Wish List!
We`re hoping to find all the things on our Wish List - can you help?

Need a Lift?!
If you have to go by car, go with Freewheelers

Event Organisers
Veggie Pride is organised by Midlands Vegan Campaigns, a small group of dedicated volunteers.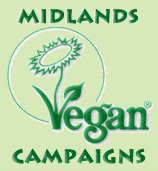 Other Festivals
For details of our West Midlands Vegan Festival & other annual, local/national vegan fairs & festivals Click here
Vision of Event

Picture the scene:

Hundreds of celebrating vegetarians/vegans parade through a busy city centre. A samba band entertains, whilst dozens of revellers dance in colourful costumes, such as super heroes, vegetables and animals! Others have donned their professional uniforms (eg nurses, chefs etc) or leisure/fitness attire (eg footballers, runners etc), demonstrating that those with compassion manifest in many forms. Hundreds carry banners, flags and placards, intent on spreading awareness of their passion for plant based diets. The vibrant carnival atmosphere draws the attention of thousands of shoppers. As crowds look on they soak up the collective enthusiasm for healthy, cruelty-free, eco-friendly living. Some can`t resist the temptation and join the parade! Leaflets leave the masses in no doubt of the benefits that a change of lifestyle would bring.

Where the proud procession comes to an end, a fantastic festival begins. Whilst hundreds of weekend shoppers flow through a central square, dozens of stalls offer a wide range of information and products to vegans, veggies and meat eaters alike. There`s a vast variety of cruelty-free hot and cold food to tempt the taste buds of even the most committed carnivores, including free samples for the curious who may wish to try before they buy! In all corners of the square, entertainment comes from talented performers of all kinds - jugglers, dancers, singers, magicians, poets, story tellers etc. Crowds flock round a stage to enjoy speeches from respected members of the veggie/vegan community and the best, most original costumes, props and banners win awards. The party continues into the early evening as bands take over the stage and round off a day of vegetarian/vegan celebration and awareness that will never be forgotten!

Where could this be? Paris or New York perhaps? No, this is Birmingham - the venue for the first Veggie Pride UK on Sat 16th May 2009!!

Lets make the above description become a reality!!
Photos from Veggie Pride 2008 in New York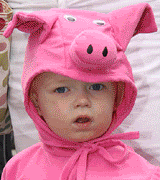 Many thanks to our sponsors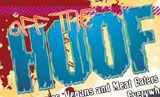 Click here for our full list of sponsors.


Why Veggie?
People choose the veggie & vegan lifestyles for various reasons, including: