Pledge to Attend!
Tell us your coming via PledgeBank & Facebook


Be Our Friend!
Join us on Myspace & Facebook

Web Banners
Display a banner on your website, blog, Myspace etc. Click here to see various sizes/shapes.

Leaflets/Posters
Help promote Veggie Pride UK. We have 1000`s of colour leaflets. Click here to order a batch or download/print yourself.
Wish List!
We`re hoping to find all the things on our Wish List - can you help?

Need a Lift?!
If you have to go by car, go with Freewheelers

Event Organisers
Veggie Pride is organised by Midlands Vegan Campaigns, a small group of dedicated volunteers.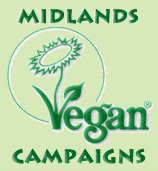 Other Festivals
For details of our West Midlands Vegan Festival & other annual, local/national vegan fairs & festivals Click here
Want To Help?

Would you like to help make sure Veggie Pride is a big success? Please consider helping in one or more of the following ways. (Please also see our Wish List for other ways you can help) If you have a website, blog, Myspace etc where you could display a banner link to this site, please see our banners which come in assorted shapes and sizes. Alternatively, a simple text link would be much appreciated. Good publicity is essential if we are to attract large numbers to Veggie Pride. We have thousands of glossy colour leaflets(small A6 size) and we want your help to distribute them! We need to flood the West Midlands(and beyond!) with leaflets, anywhere that there are people who may be interested - so basically anywhere at all! Your school, college, workplace, library, church, community group, health food shop etc etc. If you`re able to distribute some, or leave some where they can be distributed(ie. health food shop), we can post some to you, so please contact us stating the number you require and your address.
Alternatively, you can download the leaflet, which can be printed out up to A4 size for posters. Please copy and distribute as many as you can. If you are talented and would like to perform at the event, we would like to hear from you. We are hoping to find all kinds of entertainers to perform all round the square throughout the day, creating a vibrant carnival atmosphere. Likewise, if you can offer your skills or services, something you think would benefit the event, please don`t hesitate to contact us We have set up Myspace and Facebook pages for the event. Why not become our friend so you can stay tuned to event updates and forward them to all your friends! Post a comment to pledge your support. In Myspace, add us to your `top friends`! In Facebook, use the `invite your friends` feature to inform all your friends of this unique event!
Help spread the word, become our friend right now! Myspace & Facebook. You can also pledge to attend via PledgeBank Whether you`re a business, organisation or just an individual, you can help us to ensure the event is a big success by becoming a sponsor or by donating whatever you can afford. MVC event co-ordinators are volunteers - all donations received will be ploughed into publicity etc. Please make cheques payable to `Midlands Vegan Campaigns` and post to Veggie Pride UK, PO Box 10202, Redditch, Worcs. B98 8YT. Alternatively, contact us for our account details so you can pay money in at any branch of Nationwide. Thankyou! We will need lots of help on the day, in many varied ways. Everything from setting up tables and leafletting in the street, to litter picking and stewarding the procession! See all the volunteer tasks below:

Setting Up Before Event (from 8am)

arrange tables ready for stallholders
help arriving stallholders to find their pitch & set up

Festival in Victoria Square (for 2 hour stints - 10am-12pm, 12pm-2pm, 2pm-4pm & 4pm-6pm):

stewards are required for general crowd safety, dealing with emergency incidents/lost children etc
litter picking to keep the square clean and tidy
help to run a general leaflet/information stall
hand out our event programmes to all festival goers
walk around Victoria Square with a platter handing out free food samples to passing members of the public
handing out leaflets to members of the public as they flow through Victoria Square
stand holding a big sign directing people to the festival (eg. outside New Street Station)

Carnival Procession (1pm - 2pm)

stewards to ensure that the procession runs as smoothly as possible
handing out leaflets about veggie/veganism to members of the public as we parade through the streets
wear our animal costumes & lightweight sandwich boards/posters etc
litter picking during and after the parade has passed through the streets

Packing Away after the Event (6pm-8pm):

fold tables and load them into van
final litter pick & sort materials for recycling

Other Important Tasks

taking lots of photos & filming the event
Event announcements on the main stage (eg "procession starts in 5 mins" or "we have a lost child, could the parents of Rosie come to the festival office please" etc)

In order to make sure the event runs as smoothly as possible, we need to find volunteers for all the above tasks(and quite possibly more!). If you can spare 2 or 3 hours or the whole day, we would love to hear from you! Just let us know what you'd prefer to do and when.

To register your interest in volunteering, please email our volunteer co-ordinator volunteers (at) www.veganmidlands.org.uk
Photos from Veggie Pride 2008 in New York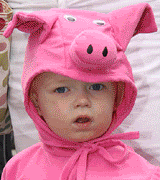 Many thanks to our sponsors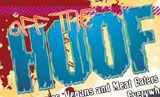 Click here for our full list of sponsors.


Why Veggie?
People choose the veggie & vegan lifestyles for various reasons, including: