Pledge to Attend!
Tell us your coming via PledgeBank & Facebook


Be Our Friend!
Join us on Myspace & Facebook

Web Banners
Display a banner on your website, blog, Myspace etc. Click here to see various sizes/shapes.

Leaflets/Posters
Help promote Veggie Pride UK. We have 1000`s of colour leaflets. Click here to order a batch or download/print yourself.
Wish List!
We`re hoping to find all the things on our Wish List - can you help?

Need a Lift?!
If you have to go by car, go with Freewheelers

Event Organisers
Veggie Pride is organised by Midlands Vegan Campaigns, a small group of dedicated volunteers.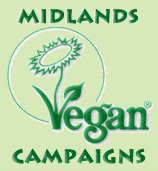 Other Festivals
For details of our West Midlands Vegan Festival & other annual, local/national vegan fairs & festivals Click here
Carnival Procession

This will be a vibrant and colourful parade through the city centre, featuring a samba band, kids block, costumes and banners! We hope to attract the attention of 1,000`s of shoppers as we parade through some of the busiest streets in Birmingham! The parade will be totally unique in the UK. Never before has a carnival procession been solely devoted to the celebration and promotion of compassionate, healthy and eco-friendly lifestyles! Make sure you`re part of this amazing event!



Samba Band

The infectious sound of Brazilian beats will alert Birmingham shoppers to our compassionate carnival procession as we wind through the busy streets. The wonderful Bloco Louco samba band will have us dancing from start to finish! Bloco Louco are a Birmingham based community band and we`re thrilled that they`ll be a big part of Veggie Pride UK!

Costume Ideas - Click here for photos

We want you to think about what costume you could wear - maybe dress up as a vegetable, animal or super hero! Or you could dress in your work uniform - eg. a chef or nurse, possibly whilst carrying an appropriate placard! Or maybe you could wear your leisure/sports clothes - eg. Vegan Runners top or football outfit, complete with football!! Please use your imagination and remember that the best costumes will win prizes in our competition!

You can get ideas for your costume by viewing the photos below, some of which were taken at last years Veggie Pride Parade in New York, and others are our suggestions! You don`t have to hire or buy a costume. Perhaps you could make a simple outfit or pick one up off your local Freecycle group. If nothing else, just wear something bright and colourful! If you like the idea of dressing as a chef, we have lots of chef clothes, enough to make at least 3 full costumes. The sizes are all XL. Please contact us if you (or your group) would like to wear these.



Banners and Placards

If you don`t fancy wearing a costume, make yourself a colourful banner or placard with a thought provoking message. Remember, this is a celebration not a protest, so no gory images please! We want to attract lots of attention and leave people in no doubt of all the benefits of veggie/vegan lifestyles! Once again, please use your imagination to create an original and eye-catching banner - you might win the best banner contest!

Kids Block

The kids block will be a section of the parade where children can march together, with their own costumes, banners etc. If your children/family would like to join the kids block, you can contact Lesley Dove to pledge your support and discuss plans - email [email protected]

Procession Route

Starting from Victoria Square, we will parade along New Street, turn left into Canon Street, left again into Cherry Street, left into Temple Row, left again into Temple Street, turn right into New Street and return to Victoria Square.
Photos from Veggie Pride 2008 in New York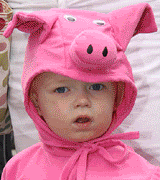 Many thanks to our sponsors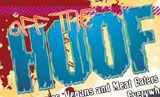 Click here for our full list of sponsors.


Why Veggie?
People choose the veggie & vegan lifestyles for various reasons, including: